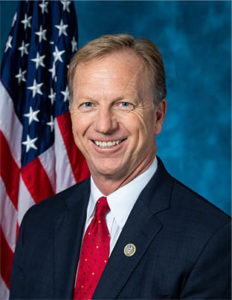 Kevin Hern was born into poverty and learned the importance and power of hard work at an early age. He earned an Architectural Drafting Certificate to work and pay for his college degree in Aerospace Engineering.
Kevin worked as an engineer prior to launching businesses in computer programming, real estate, and even hog farming. Eventually, he saved enough money to purchase his first McDonald's Restaurant. Kevin grew his McDonald's franchises to 24 locations in Northeastern Oklahoma, employing hundreds of people. He has owned numerous businesses in manufacturing, real estate, technology, and has even served on the board of a community bank.
Kevin Hern was sworn into Congress on November 13th, 2018. He serves on the Ways and Means Committee and is the Chairman of the Republican Study Committee, the largest caucus in Congress.
Lunch is NOW $20 a ticket, but FREE for "PAID" TCB members.
Please, you must RSVP! Be sure to bring your printed or digital ticket.
Purchase tickets: https://www.eventbrite.com/e/tcb-august-luncheon-2023-tickets-694306789297?aff=oddtdtcreator
Connect with us on social media:
https://www.facebook.com/TulsaChristianBusinessmen